Stay connected: get the latest updates and opportunities
Each month we email you the latest on upcoming programs, available resources for you and your students, job openings, calls for papers, fellowships, discounts, and more.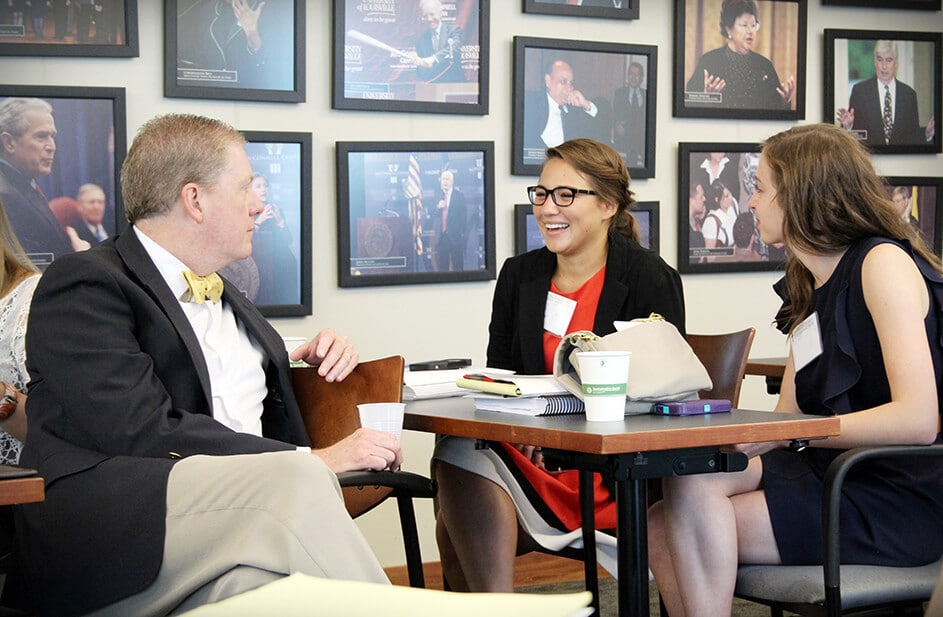 Mentor Outstanding students
We understand that teaching is a calling.
But we also understand how frustrating it is when so many students aren't engaged or care only about their grades.
Faculty who mentor ISI students frequently tell us they feel rejuvenated. They remember why they got into teaching in the first place once they engage with ISI students—young people hungry to study the conservative intellectual tradition and the foundations of freedom.
Join the ISI community to discover how you can work with such outstanding students.
Pursue a Career in Academia with ISI Support
Are you a graduate student who intends to teach? Are you committed to education, academic excellence, and forming citizens capable of making reasoned choices in favor of liberty?
ISI can help you.
For more than 50 years, ISI has offered fellowships to outstanding graduate students who go on to teach in the humanities and social sciences. Hundreds of alumni of ISI's now teach in colleges and universities across the country.
Learn more about ISI's graduate fellowships and apply today.
CONNECT with like-minded faculty
ISI faculty enjoy connecting with fellow like-minded faculty from other schools.
Join one of America's largest networks of conservative faculty. Seek professional advice from mentors. Trade notes on syllabi and teaching resources. Or simply get together with peers who share your worldview.
Like so many ISI faculty before you, you may make friendships that last a lifetime.
Teaching Resources
ISI's Philosophy, Politics, and Economics Online Courses
Do you want a flexible and affordable way for your students to obtain an education in freedom?
Then explore ISI's Philosophy, Politics, and Economics (PPE) program. Taking its inspiration from the University of Oxford's famous interdisciplinary program, the ISI PPE offers a comprehensive, integrated, serious, and yet accessible education in the dimensions of freedom.
Anyone can take ISI's online courses. Students can even take them for transferable college credit, thanks to ISI's partnerships with several colleges and universities.
Journal and Lecture Archives
Discover an unmatched repository of conservative wisdom.
Here you will find 60 years' worth of essays, lectures, and debates.
You will find works by everyone from Russell Kirk, Eric Voegelin, and Milton Friedman to Roger Scruton, Charles Murray, and Ross Douthat.
The archives provide classroom resources, research materials, and items for your own reading and listening pleasure.
Engage Conservative Thought
We've been around for more than 65 years, which has its advantages.
Namely, we offer you a treasure trove of intellectual content: books, journals, articles, lectures, debates, and more. You'll find the most significant thinkers of the postwar conservative intellectual movement represented here.
And through ISI Books, Modern Age, and the Intercollegiate Review, you will find new works to explore all the time.
Modern Age
Here is the forum for stimulating debate and discussion of the most important ideas of concern to conservatives of all stripes.
Modern Age plays a vital role in these contentious, confusing times. It applies timeless principles to the specific conditions and crises of our age—to what founding editor Russell Kirk called "the great moral and social and political and economic and literary questions of the hour."
And when you become an ISI faculty member, you receive a free subscription to Modern Age!
Refer Students
You probably know a few students who stand out from the pack. Who are interested in ideas. Who question campus orthodoxy. Who relish serious, civil debate. Who are people of character.
Send them ISI's way! Refer promising students to ISI to help them begin their own intellectual journey and get the college experience they hunger for.